Our billing system stores a record of ALL account related notifications sent to the email address you have saved on file for your billing account.
If you misplaced or didn't receive an email from us when you expected one, please make sure you've whitelisted peopleshost.com in your SPAM/JUNK filters.
These notifications may include:
Web hosting and control panel information
New invoices generated on your account
Upcoming renewals for products and services
Support (ticket) related emails
Announcements and password resets
If you did not receive or save an email notification, you will need to follow the below instructions to access that email in your billing dashboard.
In this example, we're going to use the Welcome email sent to you when you first signed up, which contains important details such as your hosting account details (cPanel, FTP, Webmail, etc.):
Log into your billing dashboard --> https://my.peopleshost.com/clientarea.php
Click Hello, NAME! in the upper right corner
Click Email History from the drop down menu
Search for Welcome in the search box
Click View Message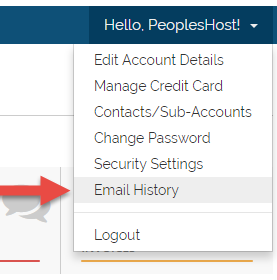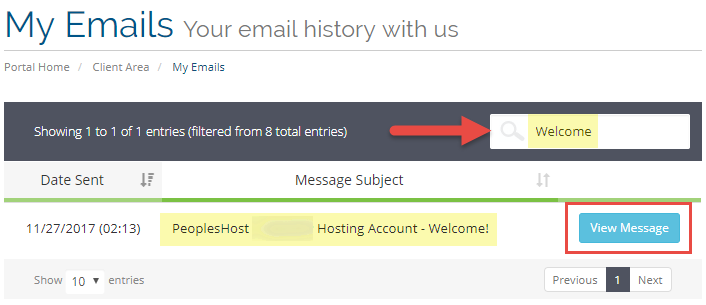 A new pop up window will open with the email message you choose to view.
Any further problems/questions, contact us and we'll be happy to help!
---
Looking for a reliable Windows or Linux hosting with Award Winning Customer Support?
Grab your hosting today with a 20% discount. All plans come with our 60 Money Back Guarantee!

Check out our plans & promotions on our website -- https://www.peopleshost.com/