To add a credit card to your account you will need to access your PeoplesHost billing account. Once logged into your billing account you can manage your existing products and services, update personal information, and add/update a credit card for billing purposes.
After a credit card is added to your account it will be automatically charged when the due date for an invoice on your account hits the due date.
NOTE: If you have previously made a payment with PayPal and set up a PayPal subscription you will want to make sure that you cancel your existing PayPal subscription. You can also contact support to have your PayPal subscription removed. This will ensure that both your newly added credit card and PayPal account won't be double charged with the next invoice created on your account.
To add or update your credit card details please follow these instructions:
Log into your billing account
Navigate to Billing > Manage Credit Card

Click Save Changes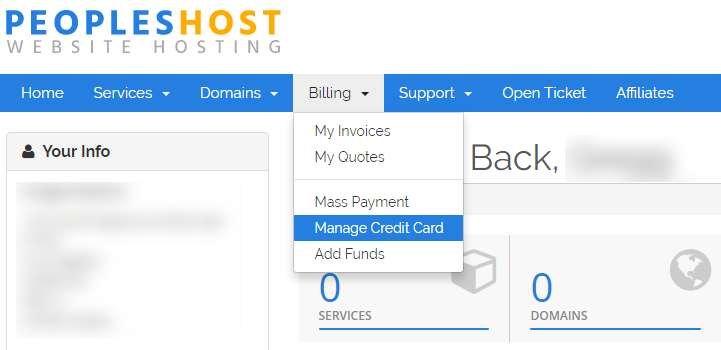 You have now successfully added/updated your card details on your billing account.
To remove your credit card details from your account we require that customers submit a request to our billing department. The removal of a credit card on a customer account must be handled directly in the billing platform by a support member.
---
Looking for a reliable Windows or Linux hosting with Award Winning Customer Support?
Grab your hosting today with a 20% discount. All plans come with our 60 Money Back Guarantee!

Check out our plans & promotions on our website -- https://www.peopleshost.com/