In order to connect to your server at PeoplesHost via FTP (File Transfer Protocol), you will need an FTP client. We recommend Cyberduck to customers who are using computers or laptops running Mac OS and can also be used on Windows computers. Cyberduck is also an Open Source FTP client and can be downloaded here -- https://cyberduck.io/.

If you are attempting to connect via FTP while on a work network you may be blocked by your workplace's firewall. You may see the following errors in your output log (see below). We highly recommend trying to connect while on your home network. As an alternative, you can log into cPanel and use File Manager to manage your site's files.

Related Article: How to Connect to FTP with FileZilla
Related Article: How to Connect to FTP with CoreFTP

The welcome email we sent to you after completing your order at PeoplesHost will contain your FTP account details; hostname, username, and password. You will need this information to continue to follow this tutorial.
If you do not have your welcome email or forgot your information, you can retrieve that email in our secure client area - https://my.peopleshost.com/clientarea.php?action=emails. It will have the word Welcome! in the message subject:




Connect to FTP Using Cyberduck
Once you downloaded and have installed Cyberduck you'll want to open Cyberduck on your computer. A new screen will appear giving you the option to Open Connection. Click the Open Connection icon (Globe with a + sign) and a new window will appear.

Enter the following information (see below).
Note: Your Server (server's hostname) below may be different from ph100.peopleshostshared.com. Please check your Welcome emai lfor your server's hostname.




Dropdown: FTP-SSL (Explicit AUTH TSL) (secure) or FTP (File Transfer Protocol (non-secure)
Server: SERVER.peopleshostshared.com (yours may be different be sure to check your Welcome email)
Port: 21
Username: Your username
Password: Your password

Please Note: By default, we set you up with a username/password that is sent to you in your Welcome email. This username is the main FTP account for your hosting account. In the screenshot above you'll see that the User is peopleshost and nothing follows the username since it's the main FTP account. However, if you are connecting to an FTP account you added through cPanel, you'll want to be sure to use the full username i.e., username@yourdomain.com.

After you have entered this information you can click the Connect button at the bottom of the screen. If you're connecting unsecurely you may receive another pop up for Unsecured FTP connection after clicking the Connect button. You'll want to click the Continue button.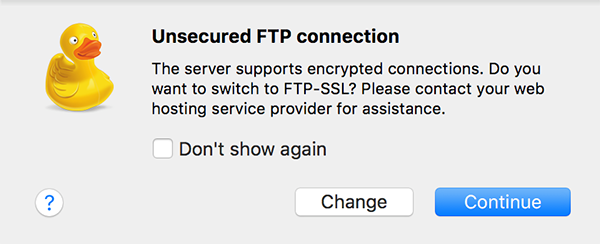 If you encounter any issues FTP'ing into your account, please contact us and we'll be happy to assist you further.

---
Looking for a reliable Windows or Linux hosting with Award Winning Customer Support?
Grab your hosting today with a 20% discount. All plans come with our 60 Money Back Guarantee!

Check out our plans & promotions on our website -- https://www.peopleshost.com/